The conference will be held at the main campus of Universidad Técnica Federico Santa María, located on the border between the cities of Valparaíso and Viña del Mar.
Valparaíso (112 km northwest of Santiago). The port city of Valparaiso is the third largest in Chile and one of the main seaports in the South Pacific. Valparaíso, a.k.a. "The Jewel of the Pacific," was declared a UNESCO world heritage site based upon its urban design and unique architecture.
Viña del Mar, known as the "Garden City", is the tourism capital of Chile. Viña del Mar offers beaches, hotels to suit any budget, delicious local seafood and buildings that recall the city's heritage.
Useful links:
http://www.chile.travel/en.html
http://www.aeropuertosantiago.cl/english/medios-de-transporte-desde-y-hacia-scl/taxis.html

Flights
There are several direct flights to the International Airport of Santiago (SCL) coming from different parts of the world. These include flights from Madrid (Iberia & LAN), Paris (Air France), New York (LAN), Atlanta (Delta), Miami (American & LAN), Toronto (Air Canada), Los Angeles (LAN), Dallas (American), Sidney (Quantas), and Auckland (LAN).

Transportation from the Airport to Viña de Mar
If you are arriving in the morning of Sunday March 17 you will be able to use the complimentary transportation service IPCO is offering. We have arranged a shuttle service from Santiago's International airport (SCL) to the Conference Hotel (Hotel San Martín). We will have three shuttles departing at 9:30am, 10:30am and 12:30pm.
Attendees arriving to Santiago's airport on Sunday, March 17 before 1:30 pm that need this service should fill the Transportation Form in the following link:
Conference attendees arriving at other times can take a taxi (US $140 approx.) to Viña del Mar, which can be shared between three people. The trip takes about 90 min.
Alternatively, you can reach Viña del Mar and Valparaíso by public transportation (for approx US $10 per person). An airport bus (called Centropuerto) goes from the airport to Santiago's subway station Pajaritos every 30 min. In Pajaritos Station you may take a bus to Viña del Mar or to Valparaíso. There are many companies offering the service. We suggest you take TUR BUS. The frequency of this service is high (about one in 10-15 minutes). The trip from Pajaritos to Viña del Mar takes about 90 minutes.
Conference attendees staying in Santiago can take the Subway (red line) and get off on Pajaritos Station to take a bus to Viña del Mar or Valparaíso.
The Bus Terminal in Viña del Mar is in the center of the city, near Plaza Jose Vergara, about 1km from the Hotel San Martín. You can take a taxi from the terminal to the hotel for around $3,000 Chilean pesos.
Transportation to the Conference Site
View
IPCO 2013 MAP
in a larger map
Daily, buses will pick-up and drop-off attendees at Hotel San Martín and the Conference Site. Participants who are not staying at Hotel San Martín can also use this service or use public transportation. The conference site is in Building A in the map below.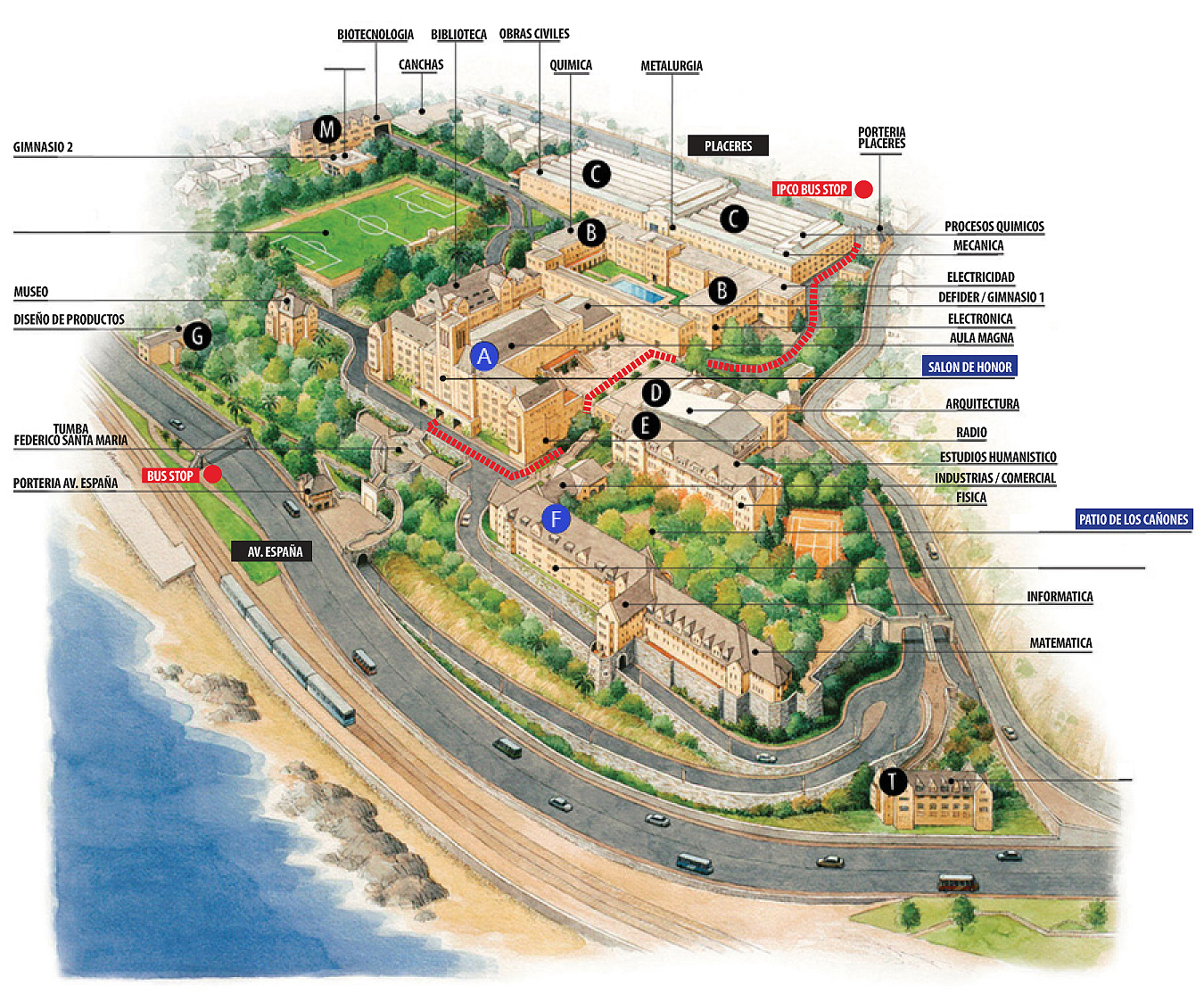 Depending on the location of your hotel there are several option for public transportation. The main entrance of UTFSM is in Avenida España (Porteria Avenida España in the map below) and most local buses pass by. The picture below is taken from the bus stop.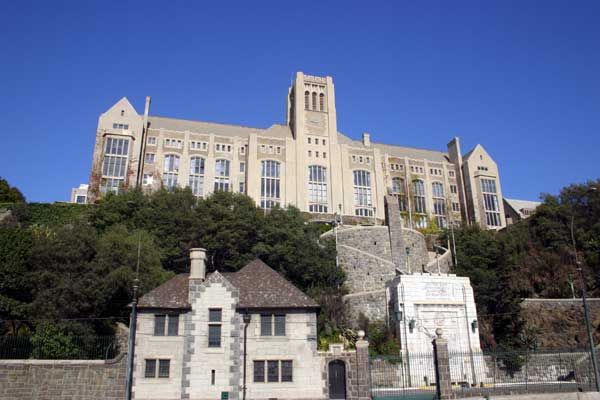 Public transportation options:
1. Any white-and-green bus (numbers 2xx) will take you from Avenida Viana.
2. Most red-orange buses (601, 602, 603, 605, 606, 607) will take you from Avenida Libertad.
3. The subway will take you from different points in Viña del Mar and Valparaíso to Portales station, a five-minute walk from the conference site.
Accomodation
A limited number of rooms have been reserved at Hotel San Martín, in Viña del Mar. We can offer a special rate of $120 dollars per night including breakfast and taxes (single or double rooms). If you want to stay at this hotel, please fill in the following accommodation form:
There are several alternative hotels in the area, including: